Suit or Tuxedo?
Tuxedos and suits have some basic differences. With today's styles the differences between them may not be as dramatic. Below are some points about each.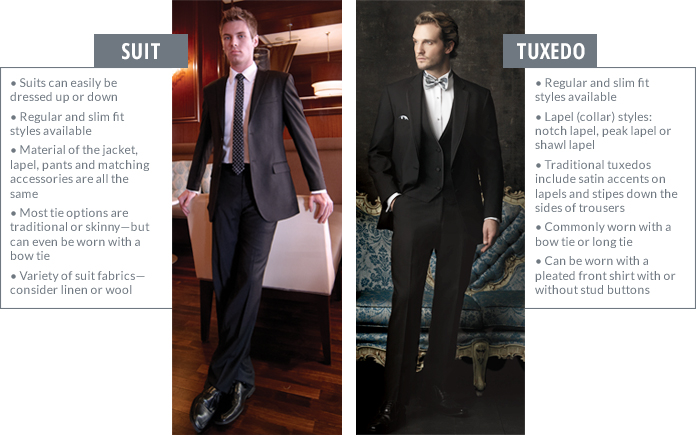 Here's a little more info:
Suits:
Are less formal than tuxedos, but more formal than just slacks and a tie or a vest and tie.
Have lapels, pockets, and pants that are made from the same fabric without satin accents.
Are available in a variety of fits, including modern and slim.
Can be easily dressed up or down depending on companion accessories (e.g. adding a vest)
Are commonly worn with a long necktie, but bow ties are an increasingly popular option.
Are usually worn with polished satin or matte finish shoes.
Tuxedos:
Are considered more formal than a suit.
Have satin accents on the lapels, pockets, and sometimes the pants.
Are available in a variety of fits, including modern and slim.
Are easily personalized through the use of accessories such as formal shirts, vests and ties, or studs and cufflinks.
Have traditionally been worn with a bow tie, but the long tie is also a common option.
Are usually worn with a high polish patent leather type shoe.
So, Which Should You Choose?

The text below is about weddings, but it fits equally well with quinceañeras or other formal events. The bottom line is that you want to dress to match the formality of the event and of your date, if taking one.

When choosing a suit or tuxedo for the groom and his guys, look to match the overall style of your wedding. Think about the dress styles of the bride and bridesmaids and pick styles for the men that match the level of formality of the ladies.

If the bride's dress is elegant and formal such as full length with train and veil, the groom should complement the bride by wearing a tuxedo. Once the groom's attire has suggested a tuxedo, the groomsmen are best to follow with the choice of a tuxedo also.

If the bride's dress is simple, full or mid length with no train or veil, then a nice wedding suit may be in order. Again, once the groom's attire has been determined, the groomsmen usually follow that lead.

The bottom line is the bride and groom should look like you belong together – dressed to really match each other's level of elegance and style. Carry this same thought through when coordinating the styles for the bridesmaids and the groomsmen and you will have wedding attire that you can treasure for the rest of your lives.

Friar Tux Shop will be honored to assist you in choosing the styles and the personalized look just right for your event. Please contact one of our stores to find out which styles are right for you.