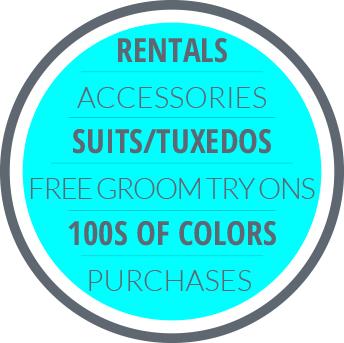 Getting Started 1-2-3
1. SELECT A STYLE
Browse our suit and tuxedo options, either in store or online
2. FIND A STORE
Visit a Friar Tux Shop store near you
3. SCHEDULE
Register your event, or make an appointment at a local Friar Tux Shop
Convenient Locations
• 30+ Locations in Southern California and Nevada
• Over 900 Fitting Locations Nationwide and in Canada
Save More With Friar Tux Shop
• Register your event in advance and enjoy even more savings!
• When renting with Friar Tux Shop there you won't pay sales tax or rush fees
Rewards on Rentals
Our rewards program was created to thank customers for their repeat business and allows you to earn credit on each rental. Every time a rental order is completed, 10% of the paid amount is given in rewards dollars to use on a future rental with us. The program is free and signing up is easy! Learn more about our Rewards Program.
Want to Buy?
Yes, you can buy suits and tuxedos, all at affordable prices. Come into a local Friar Tux Shop and check out our collection or visit us online to purchase suits, tuxedos and accessories.
For Your Wedding
FREE GROOM'S STYLE PREVIEW
At Friar Tux, we let our Grooms try on for free, before booking! There is NO ordering from catalogs with Friar Tux Shop, we want to make sure you can try our styles on, and find something you love.
OUR STYLISTS
When you come into a local Friar Tux Shop store, you will work with one of our stylists to find the style that fits you best. Plus, we will match your colors and organize your event booking.
REGISTERING YOUR WEDDING
When you register your wedding with Friar Tux Shop, you will receive exclusive offers and specials – so that you can your wedding party save!
GROOMSMEN
Whether your groomsmen are local, or out-of-state, we make the fitting process simple. Notify your groomsmen that it's time to get measured with our online Wedding Manager. They should be measured at any formalwear specialist convenient for them and can then submit their measurement information on our web site.

CLICK FOR MEASUREMENT FORM (PDF)
PICKUP
During the Final Fitting, we'll inspect each groomsmen to insure a perfect fit. For any out-of-town groomsmen, they will be able to pick-up their rental at the designated store nearest the wedding venue the week of the wedding.
RETURN
Rentals can be returned to any Friar Tux Shop location the day following the event or shipped back (see below). One groomsman can return multiple rentals on behalf of others who have departed.
RETURNING VIA UPS
If you prefer to return your order via mail, we offer UPS returns for $10 per order. Just add this service to your rental at the time of order placement or pick up. The sales associate will give you a bag with a shipping label already attached. Learn more about Shipping Your Rental Back.